Donations needed for the Boots & Saddles Auction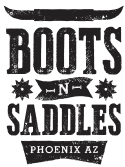 The Phoenix-Camelback Rotary Club is hosting their Annual Boots & Saddles event and they're in need of donations for their silent auction. This is a very important event because Feed our Babies gets most of our annual funding from this one event.
Donation ideas: gift cards, sports memorabilia, artwork, airline miles, hotel stays, timeshare slots, beer, wine, and liquor. Or, if you know any business owners, please ask them if they'd be willing to donate products/services or to make a financial contribution.
The Auction is on Saturday, April 7th so we need items ASAP! 
This event is very important to Feed Our Babies as we are the primary beneficiary. Please help us make it a success so we can continue to provide food and support to our families in need!
Click the button below to complete a donation form and return by email, mail or in person.