Spread the Love Event, February 10th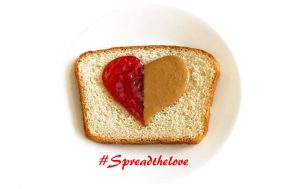 February is the Month of Love and on February 10th, we spent the morning spreading LOVE at our #Spreadthelove PB&J Event!
Our amazing and committed volunteers made and distributed peanut butter and jelly sandwiches to local families in need.
WARM THANKS TO…Grand Canyon University Women's Hockey Team, Katherine and her boys, Kristina Charlton and Grace, Joe, Donovan Strickland and Bonnie Stallings!
Sixty-five grape and strawberry peanut butter and jelly sandwiches were made for the Weekend Lunch Program for kids in need in the Scottsdale Unified School District, Ingleside, Tevan and Arcadia areas. The bags were filled full with applesauce, peanut butter crackers, granola bars and lots of Valentine treats.
Feed Our Babies also helped 20 families with emergency food boxes.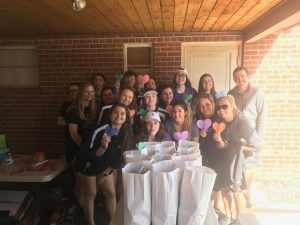 WHEN: Event was Saturday, February 10th from 10 am to noon
WHERE: 3313 N 4oth Street, Phoenix, AZ 85018
Here are a few ways you can help us Spread the Love at our future events:
Donate supplies

Bread – wheat or other whole grains, when possible
Peanut butter – no partially hydrogenated oils or added sugar, when possible
Jelly, all flavors – no high fructose corn syrup, when possible
Sandwich bags
Food handling gloves
Plastic knives

Make and Distribute sandwiches and food bags
Spread the word (and the Love) by sharing this post with friends and family
For more information or to RSVP for an upcoming #Spreadthelove Event, please email info@feedourbabiesusa.org. If you are unable to attend but would love to make a donation, visit our Donation page. 100% of your donation goes towards our programs.
We hope to you see!